The story of Global Positioning Systems (GPS), like all phenomenal technological success stories, is one of unintended consequences. GPS is now with us everywhere. It guides our driving and finds us the restaurant nearest to us. It aids mountain rescuers, and it helps ships stay on course. The digital world would be a very different, and less interactive, place without it. A phenomenal success story it certainly is. But its origins are more complex.
Also like most phenomenal tech successes, GPS was not born of any Eureka moment. Rather it came from a hotchpotch of technology, politics, fear and expedience. The launch of the Soviet Sputnik satellite on 4th October 1957 was a point of enormous disruption for the West in the Cold War. Not only had Russia pulled ahead in the space race, it was now clear that it had the rocket technology to strike the US homeland. Western experts sprang in to action. MIT scientists found they could track Sputnik's location using Doppler Effect principles, whereby sound waves vary in frequency according to the direction and velocity of an object reflecting them (imagine standing by a long straight road, and a car passes you at 80 mph). This in turn gave traction to the methods which would enable Earth-bound receivers to precisely triangulate their positions using satellites. For years this locative capacity was tightly guarded by the US military: under the process of "Selective Availability", the signal, which allowed receivers to pinpoint their positions, was scrambled except for military users, so that its accuracy was all but useless except for the smallest-scale navigational purposes.
It took another Cold War flash-point to shift this thinking. On September 1st 1987, Soviet air defence mistakenly shot down Korean Airlines flight 007 to Seoul with the loss of 269 lives, thinking it was a hostile aircraft after it strayed into Soviet airspace. This bought the need for real-time geolocation in to sharp focus. In the grief and outrage that followed, then-President Ronald Reagan – amid the blood-curdling threats of retribution flying between East and West – accelerated the process of making GPS available for civilian use. And then on May 1st 2000, as the dust from the falling Berlin Wall was settling, his successor (bar one) Bill Clinton issued an Executive Order ending Selective Availability. Combined with the World Wide Web (invented 11 years earlier), this action helped set the Internet on its path from our desktops to our pockets.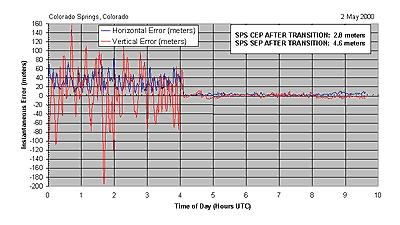 We are marking this event's 20th anniversary in DDH with a series of events. Last week, we hosted a quadruple headed set of talks by myself, Cristina Kiminami and Claire Reddleman of DDH, and the GPS artist Jeremy Wood, who presented an overview of how he uses GPS receivers to craft linear sculptures of human motion through the world. In his words, "[W]e are the data. We are the map." This raises a whole set of practice-led research questions for Digital Humanities: how does GPS help us explore "annotative" approaches to the world, where movement can be captured and imbued with further meaning through the process of associating and linking further information with it, versus "phenomenological" approaches, which stress the subjective lived experience of creating a trace (Cristina's work); and how an entire place, such as a penal colony can be reproduced (Claire's work).
The work we all presented last week represented showcases of how a technology born of the unintended consequences of the struggles, crises and flashpoints of the last century's Cold War is now open to new ways of exploring relationships between the human/physical and the digital/ephemeral. We are much looking forward to exploring these questions further throughout the 20th anniversary of the end of Selective Availability. Next in this will be a conference on May 1st – the actual anniversary of Clinton's order – organized by Claire and Mike Duggan of DDH entitled "20 years of seeing with GPS: perspectives and future directions". This conference will surely have a rich seam of theory and practice to build on.